This is the rill speaking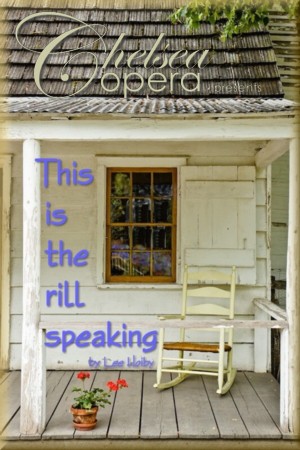 Music by Lee Hoiby
Libretto by Mark Shulgasser
Based on the play by Lanford Wilson
Press- past productions by other companies:
The New York Times
Opera News
Listen to Audio Excerpts:

Maybelle & Mother
Mother/Allison - Kate Hannigan; Maybelle/Peggy - Lauren Iezzi;
Tommy - Joey Wilgenbusch;
Willy - Jordan Wilson;
Keith - Brent Arnold
Excerpts provided by permission from Eastman School of Music Opera Theater, Steven Daigle, Department Head and
Benton Hess, Conductor.
Complete Albany recording is available on download from itunes and by purchase in hard copy from amazon.com. Click image below:

About

This Is the Rill Speaking
Lee Hoiby's one-act opera This Is the Rill Speaking captures the everyday happenings of rural America in all of its glories and shortcomings. One of Pulitzer Prize-winning playwright Lanford Wilson's seminal early works, This Is the Rill Speaking is of the genre of non-narrative, multi-vocal evocations of the 20th century small town; the genre embodied in works such as Dylan Thomas's Under Milkwood, Edgar Lee Master's Spoon River Anthology, the stories of Sherwood Anderson, and Thornton Wilder's Our Town. Such glimpses of small town quotidian passions and conversations combine to create a touching and resonant picture of life.
Meet the Composer

LEE HOIBY (composer)
Lee Hoiby is beloved by performers as diverse as Leontyne Price and Jean Stapleton, for his numerous settings of texts from Emily Dickinson to Julia Child. Mr. Hoiby was introduced to opera by his teacher at the Curtis Institute of Music, Gian Carlo Menotti, who involved him closely in the famed Broadway productions of The Consul and The Saint of Bleecker Street in the early 1950s. His works have been recognized by awards and grants from the Guggenheim Foundation, the National Institute of Arts and Letters, the Ford Foundation, the Fulbright Commission and the National Endowment for the Arts. In 1989 his work was the subject of a retrospective concert at the Kennedy Center on the American Composer Series, and a two-week festival of his work was presented by the music department of the University of California at Long Beach. His principal works include the operas The Scarf (1958 ), A Month in the Country (1964), Summer and Smoke (1971) and The Tempest (1986). He is also the composer of nearly 100 songs, including the AOP commissioned "The Darkling Thrush," as well as music for orchestra, solo instruments, chorus and the theater. He lives in upstate New York. For more information, visit www.leehoiby.com
Lanford Wilson (playwright)
Born on April 13, 1937, in Lebanon, Missouri, Lanford Wilson began writing at the University of Chicago in 1959 after enrolling in a playwriting class. Upon graduation, he moved to New York City where he soon became involved with a group of theatrical artists at the Café Cino, one of many tiny coffeehouses Off-Off-Broadway that presented edgy, avant-garde works. Wilson served not only as playwright, but also as director, actor and designer. His first play, So Long at the Fair, was produced at the Café Cino in 1963 followed by a one-act entitled Home Free (1964). Several months later, Balm in Giliad (1965), a massive, 56 character piece that incorporated simultaneous scenes and overlapping dialogue, opened at the Café LaMama. In 1969, Wilson co-founded Circle Repertory Company with a group of friends that included Mason. The company's first major success was Wilson's Hot L Baltimore (1973), the story of a group of drifters, prostitutes, and aging residents in an old, run-down hotel. Other Wilson plays include The Mound Builders (1975), Serenading Louie (1970), Angels Fall (1982), and Talley's Folly (1979), for which Wilson won the Pulitzer Prize for Drama and the New York Drama Critics' Circle Award. Wilson's other awards include, among others, the Vernon Rice Award for Rimers of Eldritch (1965), the New York Drama Critics' Circle Award, the Outer Circle Award, and an Obie for Hot L Baltimore (1973), and another Obie for The Mound Builders (1975).