PAST PERFORMANCES
Chelsea Opera presents: - "Spring Swing and Shop"
Saturday - April 24, 2021 at 7pm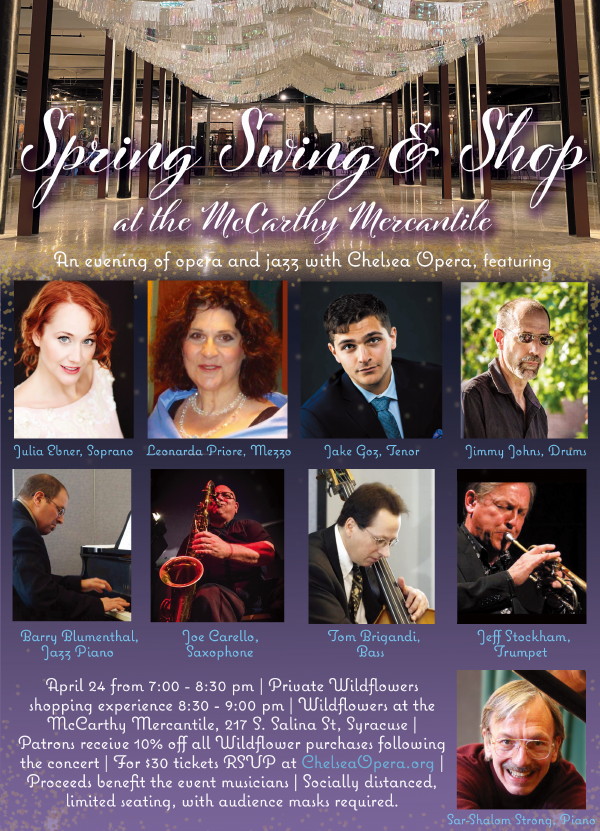 Saturday - April 24th, 2021
7pm to 8:30pm - house opens at 6:45pm
An evening of live music including Opera/Classical/Cross-Over and Jazz
Chelsea Opera is pleased to bring Central New York patrons an opportunity to enjoy a live, in-person performance while following all recently released NYS entertainment venue guidelines!
Chelsea Opera's Spring Swing & Shop at the McCarthy Mercantile invites a limited number of patrons to enjoy opera, jazz, and cross-over repertoire in the spacious, newly renovated lower level of Wildflowers, 217 S. Salina Street, Syracuse, NY.
Featured Performers:
Julia Ebner - soprano, Leonarda Priore - mezzo soprano, Jake Goz - tenor, Sar-Shalom Strong - classical piano, Jimmy Johns - drums, Barry Blumenthal - jazz piano, Joe Carello - saxophone/flute, Tom Brigandi - acoustic bass, and Jeff Stockham - trumpet.
All patrons will receive a private shopping experience following the performance, receiving 10% off all Wildflower purchases! 
All ticket proceeds will go directly to benefit the performers during these especially difficult times for artists and arts organizations alike.  
Thank you for supporting Chelsea Opera as we swing into spring!    
NOTE: After purchasing tickets online and prior to the performance, all patrons will answer a brief health questionnaire at the door, complete a temperature scan, and enjoy the concert from the comfort of socially spaced, padded chairs, provided by Chelsea Opera. Masks required.
Wildflowers at the McCarthy Mercantile 
217 S. SALINA STREET | SYRACUSE, NY | (lower level)
Jazz portion - to include selections from Tom Brigandi's Late Night New York CD
SPECIAL SHOPPING DISCOUNT TO PATRONS - 10% discount on all shopping purchases to patrons after the event from 8:30 to 9pm.

Limited Seating - Purchase your ticket here now!




Thursday, December 3, 2020 at 7:00 pm
St Mary of Mt Carmel/
Blessed Sacrament Church
648 Jay St., Utica, NY 13501

Postponed to May 23rd, 2021
or
DONATE HERE

with special thanks to:
Father James Cesta, Peter Elcaqua, Anne Elacqua,
The Entire Priore Family
all those that have given their time, talent, donations and assistance to make this a reality